Special concrete adhesive for flooring
Special floor concrete adhesive is used for repairing and restoring concrete floors during flooring and causes the seams and cracks to be repaired and filled while preserving the color in the concrete (maximizing the new surface to be the same color as the old surface).
This product is liquid and has a milky appearance that is easily sprayed on cement surfaces. This product can be combined in any type of cement, concrete and gypsum mortar.
The most common use of this product is in the repair of worn concrete for:
Waterproofing concrete and concrete structures,
Restoration of concrete structures,
Concrete pools,
Water canal damage repair,
Floor of industrial halls,
Airport runway,
Dams,
Base of bridges and columns
It can be used.
The advantages of special concrete adhesive for flooring include the following:
Increase the adhesion of new concrete or mortar to old concrete or mortar
Reduction of concrete permeability and sealing
Prevent cracking and drumming of mortar
Increased resistance to melting and freezing cycles
Increased tensile, bending and abrasion resistance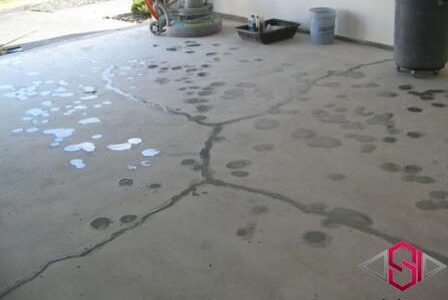 Features of concrete floor adhesive:
If concrete structures are superficially damaged and have small cracks and crevices, they can be repaired without changing the color and appearance of the surface, as well as preventing water from penetrating, and therefore are used for sealing concrete. .
Another feature of this product is in repair projects, because it significantly increases the adhesion of concrete to the old surface. Therefore, it has a very high adhesion strength on a variety of surfaces.
Concrete adhesive is produced on the basis of acrylic resins and is used in repairs, sealing and impermeability of concrete and concrete surfaces. Prevents cracks from structural deposits.
Another feature of this product is that it is sealed and prevents cracking and inflating of concrete.
Keep away from sunlight and can be kept in the temperature range of 10 to +35 degrees Celsius.
It is offered to the market in the form of 4 kg containers and 20 kg gallons.